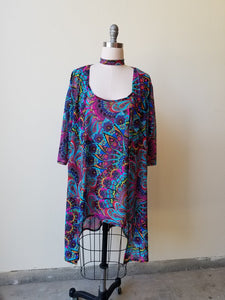 How does Handmade Happen?
Have you ever wondered what really goes into hand making custom clothes?
How does a designer go from an idea to a finished product?
Check out our quick 3 minute video below and follow along as designer Rebekah creates one of our favorite new looks - a mesh dress/kimono/choker set!
For a more detailed idea of how handmade happens, keep reading!
Fabric
At Bexi apparel, it all starts with the fabric. Everything from the weight of the fabric, the size of the pattern, and feeling of the fabric will give a clue on what it wants to become! The sheer mesh fabric we work with in the above video is one of our favorites for rave clothing. It is lightweight and easy to wear in hot weather, but a great layer to warm up at night. It is stretchy and tough, resistant to damage and easy to pack into a ball and throw into a backpack.
Design Development
For this design, Rebekah wanted the fabric print to speak and the silhouette to be simple. She left the kimono as a 3/4 length so you can pack on your kandi bracelets comfortably! It is an open front look to show off your rave fit for the 'gram! The slip dress is inspired by 90s slips, short and simple with an A-line fit. She imagines styling it with neon strappy lingerie for a super funky look!
Patterns
Pattern drafting is the term for creating the paper shapes that become the garment. Rebekah drafts these from measurements and experience into a toile. A toile is the first draft of a garment where you can test the fit and make adjustments. That means before we even go to the step of cutting and sewing the final garment in the video, Rebekah cut and sewed an entire outfit in plain black mesh to try on and perfect the fit!
Cutting
When cutting fabric, it is super important to get the fabric straight and not cut it crooked. You can see Rebekah measuring and adjusting fabric multiple times until she gets it straight and can cut the pieces of the clothing. She uses pattern weights instead of pins for a shortcut and to avoid the pins damaging the fabric.
Sewing
Rebekah mostly sews on her Brother 1034D seger machine, which creates an overlocked seam. The type of seam you see inside your T-shirts. Her Janome sewing machine does the zig-zag stitches that finish the edges.
Lastly, ironing and steaming will shape the edges and give the garment a finalized look. All in all, it took Rebekah about 6 hours to cut, sew, and finish this entire outfit. The set is retailing for $85, which takes into account the cost of the fabric as well as all the time it takes Rebekah to handcraft this unique design.
We hope you enjoy this video and let us know what else you want to see!
---