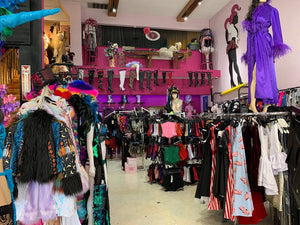 Where to Shop for Rave Clothes - Los Angeles
Have you been wondering where to shop for rave clothing and where to get ideas for outfits? Check out this guide to shopping Los Angeles - be sure to visit these great locations on your way to your next So Cal festival!
Updated 7/22/2021
Bexi Apparel
Hey - that's us! We are based in Los Angeles, where we hand sew the majority of what we sell! Although we don't have a store front, we are happy to coordinate with customers for local orders. Check out our site for all of our current in-stock styles. Contact us to arrange local pick-up/drop-offs.
We also have a "made to order" section which has a 2-3 week processing time. 
Downtown Los Angeles
DTLA is packed full of amazing restaurants, shops, and culture. There are multiple rave clothingshops in the fashion district, as well as vendors for fabric, trims, and items like hosiery. Parking can be tricky and downtown can be a little dirty. Bring your street smarts and some cash to get some great deals!
Rave Wonderland
@ravewonderland
408 W. Pico Blvd, Los Angeles, CA, 90015
Open daily 10am-6pm
Rave Wonderland has a big assortment of rave outfits for men and women. The have their own branded clothing, J Valentine, YRU shoes, hosiery, and beauty. The interior is fun and interactive, always filled with posters and stickers for upcoming events. There are plenty of dressing rooms and mirrors. At our last visit, they had a Kandi making station which was fun. The customer service is okay, but the wide selection of items keeps us coming back.

Photo from @ravelandofficial instagram
Raveland 
@ravelandofficial
1143 Santee Street, Los Angeles, CA, 90015
Open daily 9:30am-6pm
We haven't personally visited this store ourselves, but it is located nearby other DTLA stores. It borders the line between lingerie store/costume store/rave store. They carry women and some mens, Demonia shoes, accessories, hosiery, and beauty. They have a super cute stuffed animal wall to snap photos infront of! We will update our review when we get a chance to stop by.
Photo from the @Raveonfirela instagram
Rave on Fire
@Raveonfirela
930 S. Santee Street, Los Angeles, CA, 90015
This store is relatively new, only opening in November 2019. They have a wide selection of styles and some really unique looks. They carry clothes, beauty, accessories, and lingerie. They carry Demonia shoes also. We hope to visit this location soon and see what else they have to offer!
DTLA Fashion District
If you like to make your own rave outfits, check out the Fashion District. There are fabric vendors selling anything from spandex prints, sequin fabrics, faux fur, mesh, and more. There are also trim stores selling elastic, sewing thread, beaded trims, sequin trims, and more. We will usually throw Michael Levine fabric store in the GPS as our starting point, grab some street parking if you can find it, and wander around for a couple hours! Cash is best, but some vendors take cards.
Michael Levines

920 Maple Ave, Los Angeles, CA 90015
Open daily 9am-5:30pm 


West Hollywood/Mid-City
Take a drive to West Hollywood to check out  Melrose Avenue which is our favorite street for vintage, alternative, quirky clothing. It intersects with Fairfax Avenue, another stylish street with a focus on skate and streetwear. We recommend setting aside an entire afternoon for this area if you can! We have highlighted some of our favorites below, but there are many more trendy stores on Melrose avenue sandwiched between La Brea and Fairfax to explore.
Dollskill
@dollskill
415 N. Fairfax Avenue, Los Angeles, CA, 90036
Open Daily 11am-8pm
This well known rave & alternative brand has its second boutique location here in Los Angeles. They have a curated collection from their online store, but not all the items. The sections are separated by the "doll" they represent, from goth to kandi kid to street style maven. The dressing rooms at Dolls Kill are super cool, each with a different theme, so be sure to try something on! They also do accept returns from online purchases at the store. Their yelp review is pretty low from many reviewers complaining about their problems from their website, but its worth a visit if you are already in the neighborhood. Parking can be tricky.
Fox That
7527 Melrose Avenue, Los Angeles, CA, 90046
Open Daily 11am-8pm
Sat/Sun 11am-9pm
For those looking for truly unique items, check out Fox That! All the items are made by their in house designer in small batches. They have a Burning Man / Post- Apocalypse vibe with lots of options for both men and women. Their prices range from affordable to high end. With an ever changing inventory, they are a must see! 
 American Vintage 
7575 Melrose Ave, Los Angeles, CA 90046 
Open daily 11am-8pm 
This vintage focuses store is a great resource for boho and Coachella vibe clothing. They have a big selection of vintage clothing for men and women. They also have an in-store line of up cycled vintage clothing and stock some new items too. We have found cute pashminas, fanny packs, vests, and other great accessories. 
New Profanity
@newprofanity
**CURRENTLY CHANGING LOCATIONS** 
shop online until it reopens - www.newprofanity.com
This store isn't focused solely on rave clothes, but has tons of amazing accessories. It is an artists collective, featuring independant artists and a focus on LGBTQ+ themes with lots of 420 references. We love their perler jewelry, kawaii accessories, sassy tee shirts, sunglasses, and huge collection of enamel pins! They have a small selection of clothing. BEXI apparel is stocked here, so if you want to try on an of our kimonos IRL, be sure to stop by! Tell Natasha we say hi!
Photo from Melrose Trading Post Website / @_katmad
 Melrose Trading Post 
@melrosetradingpost
7850 Melrose Ave, Los Angeles, CA 90046  
Open Sundays only - 9am-5pm
Located in the parking lot of Fairfax High School every Sunday, this flea market-meets-craft fair is one of our favorite spots in Los Angeles! There is a huge mix of items, including vintage clothing, candles, vintage knick-knacks, crystals, plants, accessories, and hand made items of all kind. We have found rave-related items like tapestries, bikinis, sunglasses, vintage boots, vintage coats, and more. There is a $5 cash entry fee, come early to avoid a line at the entrance. 
Outside of Los Angeles
Wicker Chambers
1959 Harbor Blvd, Costa Mesa, CA 92627
Open Weekdays 11am-9pm 
Friday/Saturday 11am-10pm
Sunday 11am-7pm
Located in Orange County, about 40miles south of DTLA, this store is worth the trip! The store has a huge collection of very high quality costumes, as well as an adult section with plenty of hosiery, sexy outfits, corsets, shoes, and harnesses. There is a festival section where the owner, Bright curates a mix of trendy items and designs by local artists. BEXI apparel is also stocked here! We love the energy of this store and the huge selection. Great for ravers and burners alike.
Freedom Ravewear
***TEMPORARILY CLOSED*** as of July 2021
1260 Liberty Way, Suite E, Vista, CA 92081
Open Weekdays 12pm-6pm
If you don't know Freedom Ravewears story, check out their website! Owned by a couple who produce everything in the USA, this is a brand worth supporting. They have a great selection of full outfits. The mens clothing section has really nice stylish options, especially for couples wanting to do an outfit with matching fabrics. 
We hope this guide is helpful for all your rave outfit shopping needs. If you see any stores you think need to be added, shoot us an email at info@bexiapparel.com
<3 BEXI
---